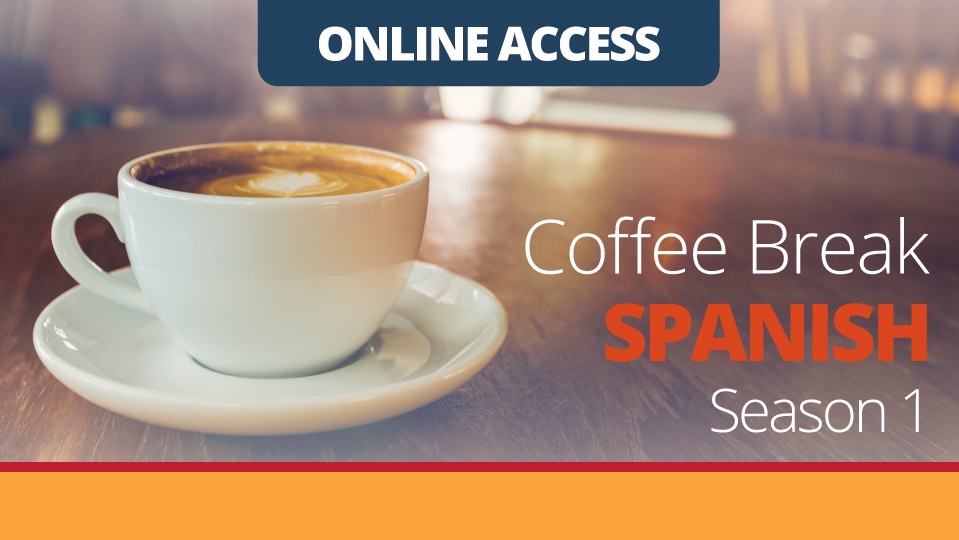 Are you planning a trip to a Spanish-speaking country? Do you want to impress your Spanish-speaking colleagues? Or perhaps you have Spanish-speaking friends or relatives. With Coffee Break Spanish you'll learn to communicate in Spanish and understand how the language works using our easy-to-follow lessons, where and when it suits you.
What does the course contain?
There are forty lessons in total, representing over twenty hours of audio content, and extensive lesson notes to help you get the most out of the course. In each lesson, teacher Mark guides learner Kara on her language-learning journey. Topics covered include all common travel situations and you'll learn, alongside Kara, to communicate effectively with native speakers to make friends, buy things, order food and drink, check into a hotel, cope with emergencies and lots more.
The course is aimed at complete beginners, and through the forty lessons of Season 1, you'll acquire a solid grounding in the language. You'll soon be able to use Spanish confidently with native speakers from all over the Spanish-speaking world.
How does Coffee Break Spanish work?
Think of Coffee Break Spanish like going for a coffee with your friend who happens to speak Spanish and is helping you learn in a relaxed, enjoyable way. Then add a solid structure and carefully constructed pedagogy which ensures that you progress through the lessons and build on previously-learned language.
Coffee Break Spanish is not a simple series of "listen and repeat" audio programmes: in each lesson Mark explains how the language works, helping Kara - and you - to manipulate the language and use it in practical situations. As a learner Kara asks questions, and makes mistakes, so through Mark's explanations, corrections and pronunciation tips you'll build your confidence and begin to understand and speak the language.
In the same time it takes you to sit down and enjoy a coffee in your favourite coffee shop, you can make progress with your Spanish. Our 15-20 minute lessons are perfect to keep you focused and let you develop your confidence in regular sessions.